It handles on hybrid system that allos to get to different types of applications: heat (for heating and hot water) and electricity (that can be sold to electric company).
Revolutionary idea behind this product is to offer in only one product solar thermal and photovoltaic energy, heat and electricity together in only one panel for the very first time in the world. This is the result of many years of research and tests.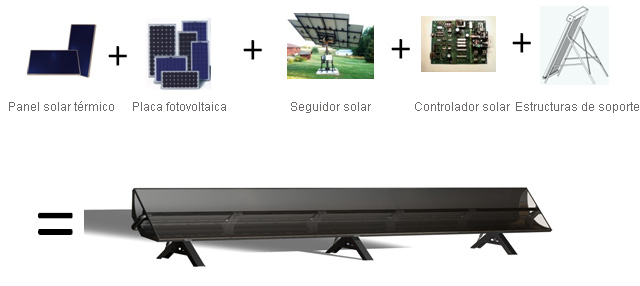 This product has received several international awargs, as Sustainable Stockholm Award and WWF Award Carl Mannerfeldt. The concentrator is a cilindrical - parabolic concentrator that concentrates light 10 times over the receptor. It is equiped with the newest photovoltaic technology and with a solar tracker. The solar tracker has a program that allows to protect solarcells of overheating or storms. If sensor detects an overheating, solar tracker diverts direct sun to an indirect way. It also has an integrated server, so we can control the facility through internet.
Advantages of solar concentrator
With only one module we can generate heat and electricity at once.
Available room is optimized on the roof for the maximun energy performance
It gets the maximun solar radiation due to its tracking system.
Installation costs also decreases
it is easy to install.
It produces more solar thermal energy than a conventional colector
It is so designed that it is easy to change components in the case that new photovoltaic technologies are developed, what will occurs for sure.
it is able to generate heat on a stable way with an homogen temperature of 160ºF.
It doesn't exist an overheating danger due to its control system.
It is manufacturated in different longs, so we can combine them.