Solar panels allow to heat the pool in a simple, economical and ecological way. Thus, the bathing season can be extended and the comfort improved without increasing the consumption of energy nor harming the environment.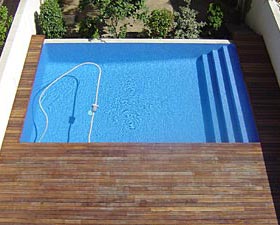 Solar energy is a simple a cheap way of heating outodoors pools
Soliclima offers the best energy solutions to heaet your pool in the most efficient way, no matter if your pool is outdoor or indoor.

If you have an outdoor pool, you will be able to offer your family and friends the posibility of enjoying a bath during more months during the year. Give your children the posibility of forgetting TV and computer to share leisure time with you.
Solar energy is one of the most installed renewable energies. It can be thermal of photovoltaic, but the ones used for pool heating are thermal, and they are the most cheap solar panels to find in the market. Installating it is very easy, and pool pumping system itself is responsible for pumping the water.

If you want to avoid heat disappearing during the night, you can use a thermal blanket over the water surface, so water won't cool during the night and will be warmer the day after.

Biomass boilers are fed with a renewable fuel. They also emit CO2, but is the same CO2 as the plants have absorbed during its lifetime, so this emissions are considerated null. Pool heating with biomass boilers can use wood pellets, firewood, almonds shells and even olive pits.

Indoors pool heating is more complex. You need to installa heat pumps, a device that produces 5 times more energy that consumed one. It is one of the most efficient devices we can find in the market. In indoors pools is necesary to dehumidify, the heating provokes water condensation over walls and glass.

By heating an indoors pool, you can also apply solar energy, increasing energy efficiency and saving costs.
Sun & Climate offers both services and optimizes it for your home. We also have availabe a Technical Support.