Our boilers and stoves use biomass as fuel to heat the home. It is a renewable resource and is respectful of the environment, as it does not emit greenhouse gases in an uncontrolled way. Moreover, its low price allows to achieve the same comfort, saving up to 40% compared to a gas boiler.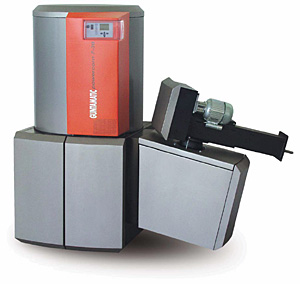 At Soliclima, we want to introduce biomass boilers, among them, Guntamatic, that have a much superior performance than conventional wood burning boilers and techonological innovations that increase the comfort and efficiency, reduce the emission of gasses and allow to heat water and connect radiators. These stoves and boilers consume pellets, ecological and renewable fuel, that does not contribute to the greenhouse effect. They are capable of auto feeding themselves, being calibrated to maintain a preestablished temperature or automatically turn themselves on or off at a predetermined time. They have a high energy content in comparison to their low cost. The pellet stoves and boilers that we install generate the same comfort, saving up to 40% compared to the consumption of conventional oil boilers.

Biomass is very wideespread and covers any type of organic matter, both plant and animal. This is formed through the natural process of photosynthesis, either directly (plants) or indirectly (plants eaten by animals).It contains all kinds of materials: wood, forest residues, pruning debris, shrubs, agricultural waste (straw), residues from the lumber, paper and farming food industries, manure, municipal solid waste, waste from farm cattle and urban wastewater, among others.
The majority of these components, if not all of them, can be used as fuel, either directly (through burning) or transforming them into other types of fuel, such as biogas or biofuels.
Using biomass as fuel, is a renewable resource, since it´s produced at the same speed as it is consumed, as long as the consumption is controled and the over exploitation of the natural resources is avoided. Biomass respects the environment, because it doesn´t emit greenhouse effect gases, uncontrollably.
When it reaches combustion, biomass releases CO2 into the atmosphere, but this is the same CO2 that it absorbed during its growth. This creates a natural cycle where the level of contamination is not increased. The level of CO2 in the atmosphere remains constant, therefore, its use does not contribute to create climate change. Not only that, but it replaces fossil fuel consumption, while it avoids forming emissions that were not part of the atmosphere before and which are the cause for climate change. Another advantage of biomass is the benefit to its surroundings: eliminating waste, reducing the risk of fire and debris accumulation. It also treats wastewater and slurry that are a source of contamination of the subsoil and underground water.