Low temperature boilers
They work with oil and consistently achieve an efficiency near 94%, reaching up to 20% savings compared to conventional boilers.
Sun & Climate only offers high efficiency oil boilers; they can save up to 40% of fuel.
¿ Why are Low temperature boilers ?
The advanced technology of our low temperature oil boilers allow to regulate very exactly the heat quantity needed for the water flow each second, reaching a very high efficiency.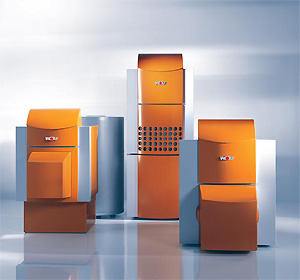 There are two different technologies that respond to the name of low consumption boiler: condensation gas boilers and low temperature oil boilers. The firs ones work only with gas, and the second ones need oil to work. A well sized boiler can work to 100% during a very small amount of time, the coldest days of winter. But boilers don't usually need to work to 100% of performance, they usually range between 30 and 40%. A low temperature boiler is a high technology device that can regulate very exactly the amount of heat to cover the water flow needs.
Low temperature boilers are oil boilers, and can be applied very easily in any domestic heating system. If we combine solar heating with the low consumption oil boiler, the cost savings can reach the 60%
Low temperature boilers
Low temperature boilers are those which technology allos to regulate very exactly the heat amount requiered in each moment. Las calderas de baja temperatura son aquellas cuya tecnología, adaptada perfectamente a cada estado, permite regular el aporte de calor al caudal de agua solicitado y a la temperatura exterior, evita en todo momento arrancar y parar constantemente, y presenta un elevado rendimiento energético.
De esta forma se consigue aprovechar al máximo el calor generado, se reducen las pérdidas, el consumo de combustible y la emisión de gases. Pueden calentar, por ejemplo, agua a 40ºC para uso sanitario o calefacción para suelo radiante en modo estacionario. Poseen un rendimiento estacionario cercano al 95%, con lo que se consigue un ahorro energético y económico que oscila entre el 20 y el 30% en comparación con una caldera convencional.
Advantages of low temperature oil boilers
They receive grants and other incentives
Seasonal performance of up to 95% to minimize energy costs
5 years of warranty in boiler body and inter accumulator
2 years of warranty in mobile pieces and electronic components
Interchange surfaces in steel to optimize thermal transmision an ease cleaning. Removable combustion chamber.
Connections from the boiler for two different heating circuit and one of drinking water, what speeds the installation and assembly work
Big combustion chamber for a clean combustion and decreasement of unburned staff.
Big water chambers for the right inner recirculation
Inverted return
Thermal isolation of 100 mm to minimize radiation and convection losses
Variety of digital regulations to work on progressive boiler temperature decrease, depending on outdoors temperature
Cabling with fast plug system
Anti-legionella hot water system
Stainless steal accu with 155 or 200 liters
Optional accumulator with doble layer of vitreous enamel
Evolution EV Boilers
Sun & Climate offers two different types of Evolution EV boilers:
Evolution EV A, with cast iron body
Evolution EV F, with steel body.

Both boilers are watertight and can work with oil, offering high efficiency, reliability, saving and comfort.
Technical Support
Disponemos de un Servicio Tecnico especializado en todo tipo de calderas, dispositivos de alta eficiencia como el suelo radiante, o energias renovables como la solar. Solicite un presupuesto.
Sun & Climate offers an expert Technical Support Team, skilled in every type of boiler, and in other high efficiency devices, such as radiant floor heating, or renewable energies as solar power. Arrange an estimate with us.
Diesel boilers
Diesel boilers
Diesel boilers